Signs From The Other Side Little Hearts
Signs From The Other Side Little Hearts From The Sky
Signs From The Other Side Little Hearts
Dear Sara, once again I return to you to share two extraordinary moments where I saw some little hearts, I am sending you the pictures.
I saw the first one on a ceramic bowl that I have in my house, which I never would have even noticed had it not been for a luminous shape fluttering that I discerned with the side of my eyes, while I was seated in an armchair nearby, watching TV. Well, this fluttering that I instinctively followed, without succeeding at really taking a good look at it, lead me to seeing just in a little spot of the bowl the little heart … (the nice part is that you can only see it if you look at it from this position, and not from any other angle!!!)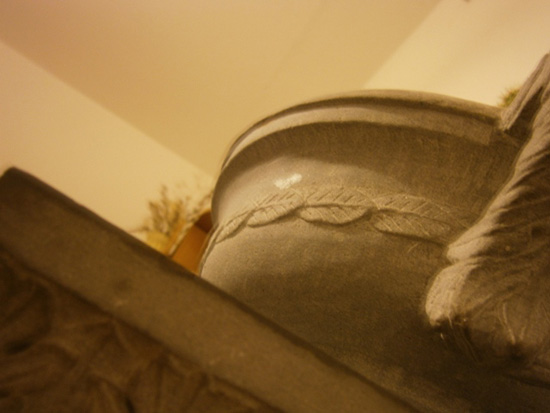 In the other pictures, the heart in the sky; a little cloud, completely different from all the others, and that seemed to stay there, allowing itself to be admired for at least 7 or 8 minutes before it dissolved into nothing. The pictures do not give a very good idea, but seeing it live made it look much more grandiose and close up than the way it looks in the pictures.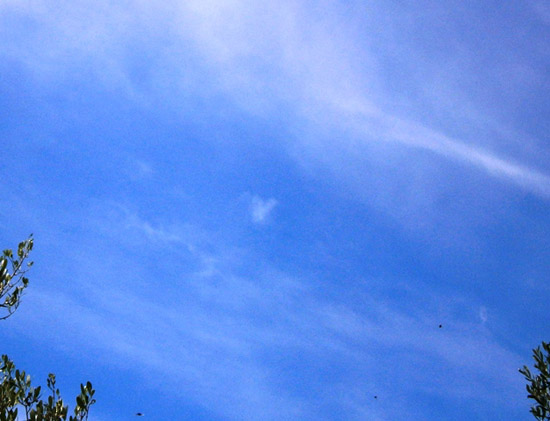 A few minutes before spotting the cloud I had been thinking of my mother, and looking up toward the sky I had noticed, on the opposite side of the horizon, some clouds that had started to take the shape of two hearts, they were very well defined but only lasted a few seconds due to the strong winds …
I really hope to continue to see these signs, from February until now they have meant the world to me, giving me a little bit of the strength that my mother would give me, to keep going in a more serene manner …
A hug,
Signs From The Other Side Little Hearts From The Sky was the testimonial of Marusca
Signs From The Other Side Little Hearts From The Sky
Signs From The Other Side Little Hearts
www.leparoledegliangeli.com/en The words of the Angels