Who Are The Angels Love And Presence
Who Are The Angels Love And Presence In Life
Who Are The Angels Love And Presence : dear Sara it's been a while since I last wrote to you, but I always follow you on your website, I wanted to tell you about a couple of episodes that happened to me, let's start by saying that right now is not a very good moment in time for me, my father has been out of work for a while now, and I found myself a part time job at a call center, at least to contribute financially, moreover, in a couple of days my mother will go to Bologna to undergo a rather delicate surgery, you can imagine the anxiety that I have, also because we can not afford for me to accompany her.
I have been anxious for weeks, and so, as usual, I very often ask my Angel to help me.
One day I had to go to work and I went to my usual bus stop, I waited, and waited, but the bus never arrived, and I had to be at work by 11, it was 10, and if the bus did not arrive right away, I was not going to make it to work in time. So I asked for help from my Angel, I told him that I had to get to work in time …. and with my surprise after 5 minutes a lady who lived close to us showed up at the stop, she too was going to take the bus, but since it was so late she asked her father to come and pick her up at the bus stop. She invited me to go with her, she was going to give me a ride, and I accepted, I swear to you I thanked her a hundred times, and of course I thanked my sweet Angel who always bends over backwards for me.
And this is not the end of it, after two days same story. Same bus stop, I waited for more than an hour and a half, no bus … I was completely depressed, and said "Well, Angel, I guess this time there will not be anyone to come and rescue me". I went back home, I opened the gate door and there was a gentleman who lives below us, he said "Good morning, why are you home today?" I greeted him and told me that my bus did not come today, and he kindly told me "I will take you". I thought that it was too much to bother him like that … but he insisted, telling me that he was going to accompany me.
I have no doubt that my Angel slowed everything down in my favor.
I also have two wonderful stories to tell you.
While I was going to work (this time the bus did not let me down) I was feeling down, I was thinking about a thousand things at the same time, when in front of me I saw a girl, wearing a white winter jacket, as soon as she walked next to me, from the corner of my eye I saw something that was about to fall, I turned around and I saw a feather. I usually do not ever pick up stuff from the road because I am embarrassed to do so, but I did pick up this feather, and it proved to be the only positive thing that day. As soon as I reached my work place, I thought of what had just happened on the road, and I asked my Angel "was it you?"
After a while, I saw a heart in the picture frame ahead of me. The nice thing is that I look at that picture frame every single day of my life, but, that day, I saw that beautiful sunset, and among the clouds, an enormous heart.
I look at that picture every day now, and it makes me feel calm.
In order not to bore you, I will tell you one last episode.
I don't know if it ever happens to you, that you wake up with a crushing anguish, needing to cry violently … well, this happened to me a few days ago. I did not even feel like waking up, I just wanted to cry.
I decided to get up anyway due to my sense of duty, I was preparing my usual bowl of hot milk for breakfast, guess what appeared on top of the milk after I poured the barley powder in it?
My Angel's version of good morning.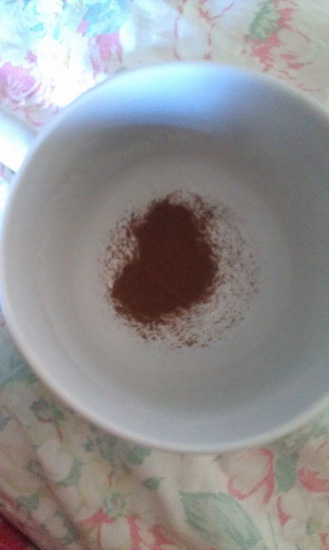 I wrote this to you because perhaps it can help someone realize that our Angels are simply waiting for us to seek them out, they can only help us if we ask them.
Thank you for reading all this.
Kisses,
Who Are The Angels Love And Presence In Life was the testimonial of Roberta
Who Are The Angels Love And Presence In Life
Who Are The Angels
www.leparoledegliangeli.com/en The words of the Angels