A Little Angel Photo Signs In San Bonico
A Little Angel Photo Signs In San Bonico From Piacenza Italy
A Little Angel Photo Signs In San Bonico From Piacenza : my wife and I went to visit San Bonico from Piacenza, where for the last 9 years the Madonna of the Night has been making appearances, to Celeste, the man who is a seer; people go to pray in this place in the countryside where the Madonna has been appearing, there is nothing there, only an elm tree with a little statue of the Madonna, with flowers and little votive lights all around; there was a storm, it was raining, it was cold, it was a horrible evening, however, just a few minutes before the seer arrived, incredibly, the sun and the rainbow appeared.
I took a picture of the sun as it was setting, and with great surprise, when I downloaded the picture on to my computer, I could not believe my eyes, I called my wife, we looked at it together and my thought immediately went to you. Why not share it with Sara?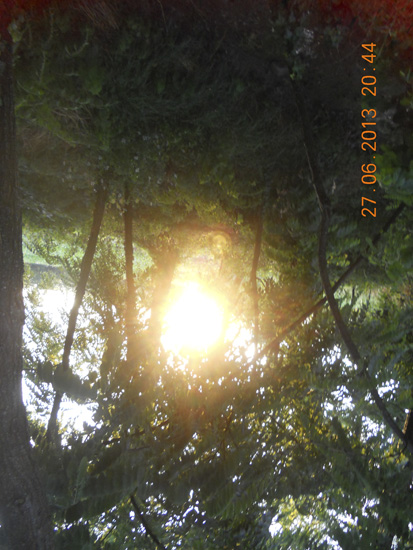 This morning I went to a local hospital to undergo a rather invasive test, well, just before they called me, what do we see on the floor? Two hearts, one big one and one smaller one, I took a picture of them with my phone and I am going to send it to you if it's possible, we are speechless, never before did we notice all these signs and we do not know what to think…
We send you a big hug and once again we thank you for the time that you dedicate to us.
Evelino and Patrizia
San Bonico, a little town in the province of Piacenza, Italy, is the place where the supposed apparitions take place (supposed apparitions because the Catholic Church does not yet acknowledge their existence).
Ever since the 8th July 2004 to date, every Thursday, Maria with three Angels appears to Celeste, the seer, and sends him Her messages. Celeste, on 11 September 2008, received the invitation to declare all these messages as received from the Madonna of the Night. Every Thursday at about 19:40 (day light saving time), or 20:40 (summer time) at the field called San Bonico, where the Holy Rosary is recited, everyone who wishes to participate is welcome.
A Little Angel Photo Signs In San Bonico From Piacenza Italy was the testimonial of Evelino and Patrizia
A Little Angel Photo Signs In San Bonico From Piacenza Italy
A Little Angel Photo Signs In San Bonico
www.leparoledegliangeli.com/en The words of the Angels