The Discovery Of Life After Death
The Discovery Of Life After Death In The Signs
The Discovery Of Life After Death : our Melina, who recently sent us a testimonials, discovered that the clover is the symbol that her mother uses; Melina continued her search and discovery, and it appears that today her loved ones who are in the Sky today got together and agreed to each use his own symbol, unique an special, but let's listen to her testimonial now, an let's look at the splendid pictures that she sent us.
Dear Sara, by now I have no doubts left of any kind … I simply had to share this with you … I am just too happy … the heart, things in the shape of a heart, I am sure that my nephew who is in the Sky today is behind it …. he made me find so many of them …,. and by now I understood that the clover is the symbol that my mother uses to tell me that she is close to me …. and I am also sure of the sign that my father uses …
I was watering the plants … suddenly I saw this clover almost looking at me … my daughter was studying …. I called her, she ran worriedly …. she claims that she heard me scream …. "Look Jessica", I told her, and she almost started to cry from the emotion …. she knew the entire story ….
Next to the place where I found my clover is a statue of Father Pio … my daughter turned around and screamed "Mum , mum, look … Pietro is here too!" I turned around at the feet of Father Pio, and I saw this leaf that had fallen from one of my orchids, with a beautiful heart!!! .... I had been expecting for that leaf to fall off due to its condition … but I assure you that before that moment the heart just was not there.
It was a very strong emotion both for my daughter and I.
Apologies for all the mistakes dear Sara …. I don't have a computer … right now I am in Bologna to let my son smell a little aroma of home … his job sent him on a temporary transfer until December.
A big hug sweet Sara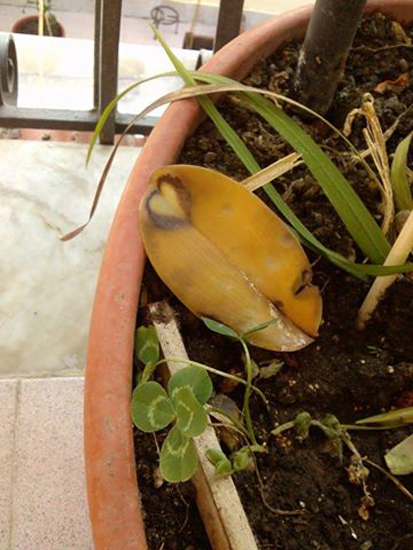 The Discovery Of Life After Death In The Signs was told by Melina
The Discovery Of Life After Death In The Signs
The Discovery Of Life After Death
www.leparoledegliangeli.com/en The words of the Angels