Prayer of a mother for her children
Prayer of a mother for her children Love forever poems and testimonials
Prayer of a mother for her children : after my mother's death I started to smell certain scents, and when I opened books or magazines, I would read words of comfort, in addition I could see hearts everywhere, objects in the shape of hearts; I placed a little book of prayers inside my mother's coffin, I originally thought about keeping it as a memento because it was so beautiful but in the end I placed it inside it, even though I was a little sad about it.
When I left the cemetery, my mother died in Rome but lived in Calabria, so the funerals were held over there, once I arrived to her home the first thing I did, as if I was pushed to do it by someone other than me, was enter my mother's bedroom, and on her bedside cabinet was the very same little book that I placed inside the coffin, with a little sheet with a prayer of a mother for her children inside it.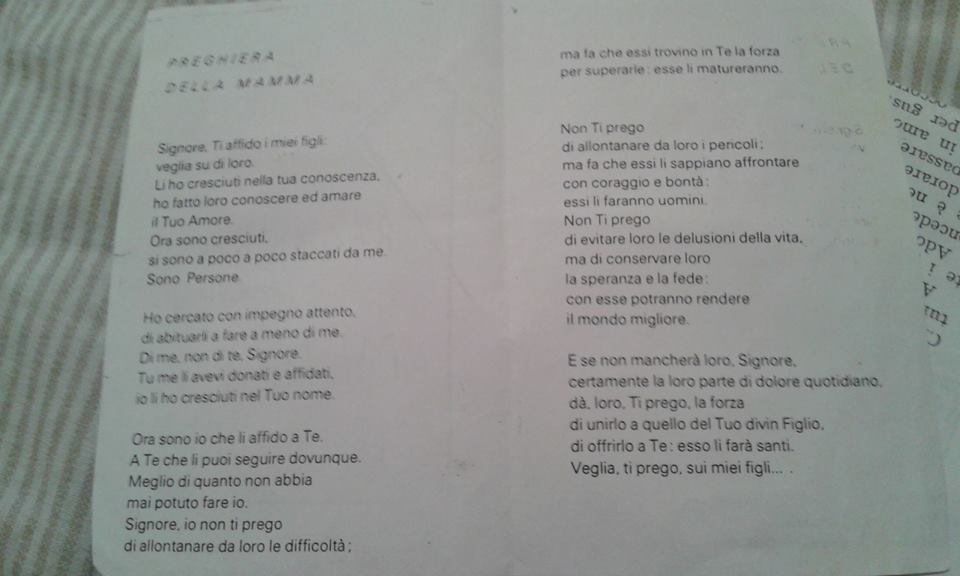 Here is the text of the prayer of a mother for her children
(From Archbishop Carlo Caputo)
Lord, I entrust to you my children: look after them.
I raised them in the knowledge of you
I let them know and love Your name.
Now they are grown up, they have slowly separated from me
They are people
I tried carefully to make them able to live without me
Without me, my Lord, not without You. You donated them and entrusted them to me
And I raised them in Your name.
Now I am the one entrusting them to You. You can follow them everywhere.
Much better than I could ever do
Lord, I don't ask you to eliminate difficulties from their lives
But for them to find the strength in You to overcome them.
For those difficulties will make them more mature
I don't ask you to eliminate dangers from their lives
But let them learn to face them with courage and kindness:
For those dangers will turn them into men.
I don't ask you to remove any disappointments from their lives
But to keep them in their hope and faith:
For with them they will make the world a better place.
And Lord, if their daily dose of pain will not fail
Give them, Lord, the strength to join it with the pain from Your divine child
And to offer it to You:
For it will turn them into saints.
Look after my children, please ….
Archbishop Carlo Caputo
An embrace
Prayer of a mother for her children Love forever poems and testimonials was the experience of our Valentina
Prayer of a mother for her children Love forever poems and testimonials
Prayer of a mother for her children
www.leparoledegliangeli.com/en The words of the Angels