Miracles Of The Virgin Mary Statue Of Virgin
Miracles Of The Virgin Mary Statue Of Virgin Mary Of Suiles Olbia Italy
Miracles Of The Virgin Mary Statue Of Virgin : first of all, before I say anything, I would like to thank Mauro Orru' from the newspaper www.olbianova.it, because not only it was through him that I heard of this wonderful testimonial that I am about to present to you today, but also for sending me all the pictures that you will see, and lastly for having put me in touch with one of the witnesses of this amazing event, miracles, a miracle of the Virgin Mary for all of us.
In this site we have already talked of Giovannino Russo from Suiles Olbia Italy, thanks to Pietro's testimonial, he told us in his testimonial how a friend had talked to him about uncle Giovannino, of his meeting with him, of the illness he was suffering from, he told us what he was feeling in his body during the meeting with him and how soon after that the doctor told him he was completely, and inexplicably, cured. Pietro also told us about Giovannino Russo, his story, his life, the miracles, the miraculous healings through Jesus, all documented with x-rays and test results, analysis, and testimonials, in this little but precious community of Suiles (you can read Pietro's testimonials on page 4 of Miracles and Graces received), a simple and modest man, Giovannino Russo from Suiles is a man of faith, a man who dedicates his whole life to welcoming suffering people and praying for them, he prays, the miracles are done by He who is way up higher above him, Giovannino Russo prays, prays for that person who is suffering and invites everyone to pray also, always, this is also the reason why many go to Suiles to pray together, to recite the Rosary together.
Giovannino Russo from Suiles is a good man who only wishes good things, and all people who congregate around him know this too.
The lady who gave us her testimonial and her companion, whose pictures you will see during a wonderful 6th of March 2013, in reality was supposed to go to Suiles in the evening to recite the Holy Rosary, but, instead, she arrived into Suiles at around 11am together with her companion. Let's listen to their words, the words of a witness to the statue of the Virgin Mary crying, this statue was protected, sheltered by the weather elements, situated in the square in front where normally you wait for your turn to be welcomed by Giovannino Russo. That day was it not raining, and besides, the Statue of the Madonna is sheltered under a roof, thus protected from the rain and humidity.
"We went there to pray. It was about 11 in the morning, there were five of us, uncle Giovannino had received my companion and I into his room, after a few minutes a lady arrived, asking to put a ladder near the Statue of the Madonna so she could see the face (the statue sits on a pedestal and her face is rather high up above):  my companion climbed up the ladder and all of us present there witnessed this wonderful moment: the Madonna had cried. From her left eye, full of tears, a little rivulet of tears formed, going down her face to her nostril, between her closed lips there was a red liquid, blood serum, that continued down her face eventually stopping at the bottom of her chin (I believed she cried blood first, then tears, by looking at the appearance)
After seeing this, my companion took pictures with his phone, and then, with a paper tissue given by that lady, he wiped the face of the statue, it was an instinctive gesture …. Those drops collected by my companion, we later realized, created a splendid heart shape on the tissue …. I myself climbed up the ladder and I could touch, collect, the last remaining drops of liquid, those left inside the nostrils, with my own tissue; the liquid was clear and had the same consistency of water, but that drop that formed on the bottom was a red color similar to blood.
We were the witnesses to an incredible event, we continued to ask ourselves "Why us? Why to us?" We do not know this, all we know is that we saw it, and we are sharing the testimonial. On my tissue I only collected a few drops, those remaining in the nostrils of the statue, at the beginning you could only see in transparency the contact with the liquid, but with the passing of time it appears that the color is becoming increasingly evident. Everything happened so quickly, watching, discovering, grabbing a step ladder, collecting the last drops, deciding to take pictures, the instinctive gesture of wiping her face dry, this is what we did then, but with hindsight I would have probably done things differently :-)
Let's look together at the extraordinary photographs that were taken at that moment, let's see together this wonderful gift that the Virgin Mary gave to all of us, a precious sign to tell us that She is there, that She is in every place where a heart opens up, wherever there is prayer, she is there, together with us, always with us with the great Love that she has in her heart for all of us, with the great Love that Jesus has for all of us, with the great Love that the Father has for all of us.
Now let's see the image from other angles: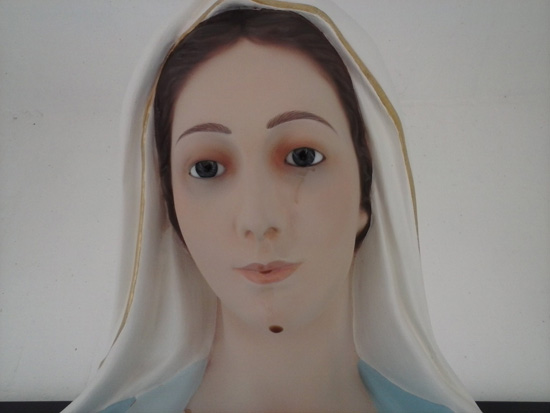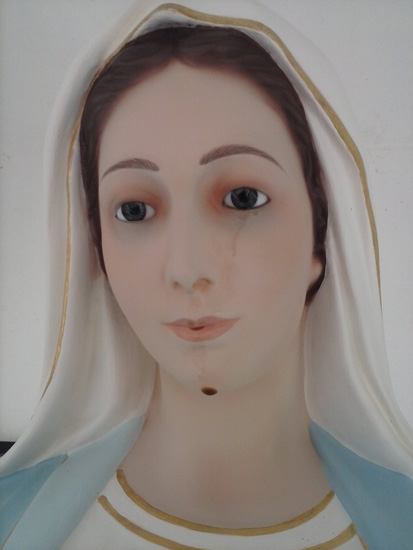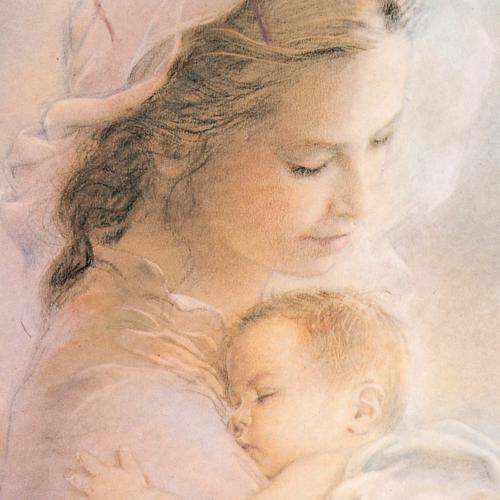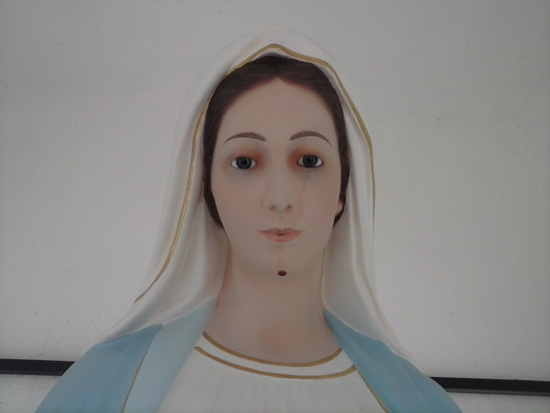 The detail of the lips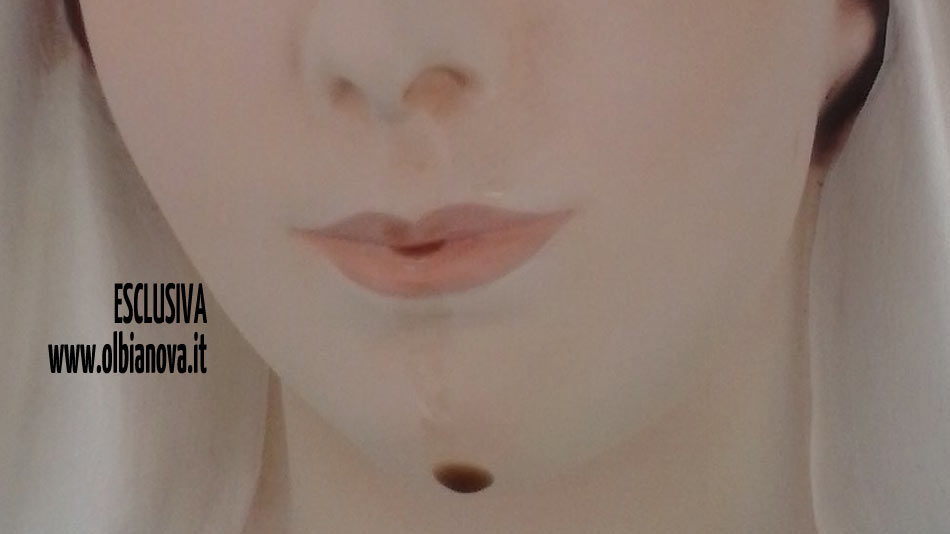 The heart formed from the tears on the tissue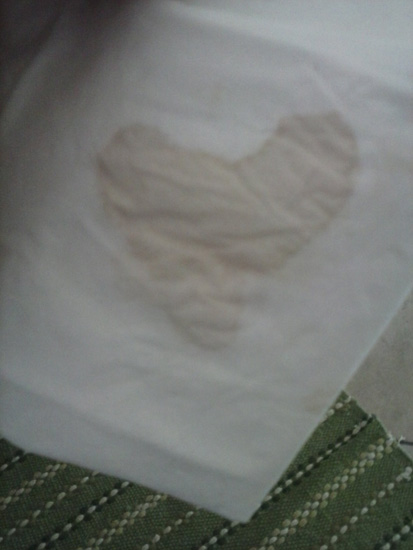 I ought to add the following facts given to us by Pietro: On meeting Giovannino Russo from Suiles (area Gulf Aranci in Olbia, Sardinia, Italy): Suiles is a little countryside town with many little scattered houses, among these is a little rural church with a great big blue cross that you can see as far back as the road leading to it; usually people arriving stand in line, and when your turn arrives you are welcomed by Giovannino Russo; he receives from Monday to Saturday, every day from 8 am to 6/7 pm, depending, Sunday is always his rest day… for those wishing to meet him you simply have to go there and wait for your turn, nothing else, perhaps in the meantime you can visit the little church where there is a great big book where are listed all the healings that have taken place, written by hand and signed by the person who received the Grace, very nice to read because they make you reflect and they represent all the Love that Jesus has given to us through the help of simple people. He does not ask for compensation.
I remind everyone that the little chapel is not consecrated but I like to think, to hope, that one day, in the name of Love, for the loving intent that unites all of us, this little, spontaneous, heartfelt, little chapel may become a Church, with the capital C, it would be like getting closer, getting among the people who believe, believe in God, believe in Jesus, believe in our wonderful Mother Virgin Mary. It would be so nice if one day this little chapel could be consecrated and for the words of the Gospel to be there available for everybody.
With this hope but also with this hope that Love is everywhere, I give everyone a big hug,
Miracles Of The Virgin Mary Statue Of The Virgin Mary Of Suiles Olbia Italy was told by Sara Luce
Miracles Of The Virgin Mary Statue Of Virgin Mary Of Suiles Olbia Italy
Miracles Of The Virgin Mary Statue Of Virgin
www.leparoledegliangeli.com/en The words of the Angels