Madonna Of The Night Apparition
Madonna Of The Night Apparition ORBS In San Bonico From Piacenza Italy Image
Madonna Of The Night Apparition ORBS In San Bonico : hello dear Sara, let me tell you; San Bonico, 11th July Anniversary of the apparition of the Madonna of the Night (9th year); it's nice to walk around San Bonico Italy, you can find people from all over, Reggio Emilia, Milan, Trento, Rome, etc, each of us with our own unique baggage of experiences; we all share in harmony as if we were all people who saw each other every day, all friends, all with a little Rosary in our hands, all attentive to needs of other more vulnerable people, many friends and many handshakes, their stories, a bit of everything.
Last night was a nice and balmy evening, I took some pictures right where the Madonna had appeared and here they are, my emotions won't allow me to find the words to describe them, ORBS right where the Madonna of the Night had appeared.
A dear and warm embrace
Bye, Evelino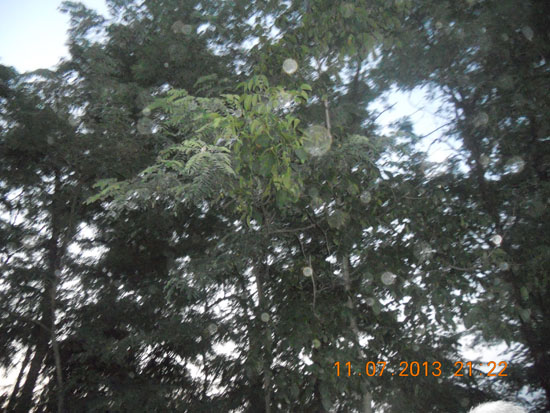 Message from the Madonna 11th July 2013
470th Meeting
The Madonna appears, beautiful, in the great light and with her hands together, with the usual 3 Angels next to her, she descends on the field, she lowers herself considerably and Celeste touches Her light, then She opens her hands and says:
"My child, please don't ever be afraid, ever, you don't ever have to worry, do as I tell you, everything is easy, everything, next to Me you can not go wrong, I beg you, anything that happens to you, you are right here, always here. I ask for prayers from everyone, for the entire world. Pray my children, pray and you will never be afraid of anything, God is your guide.
Enter the Churches and pray, kneel in front of Him, suffer in front of Him, I beg you, do it, nothing will happen to you, only Love and Peace. In the end, kneel and ask for God for forgiveness for all those who insult him, do it for them, I beg you.
I bless you in the name of the Father, of the Child and of the Holy Spirit, Amen"
The Madonna blesses, closes her hands, goes up into the light with the usual 3 angels and disappears.
Madonna Of The Night Apparition ORBS In San Bonico From Piacenza Italy Image was the testimonial of Evelino
Madonna Of The Night Apparition ORBS In San Bonico From Piacenza Italy Image
Madonna Of The Night Apparition
www.leparoledegliangeli.com/en The words of the Angels