Signs of love from the Sky many hearts
Signs of love from the Sky many hearts images photos
Signs of love from the Sky many hearts : hello dear Sara, my name is Anisia, I am 23 years old. I wanted to tell you something, I went through a very difficult moment of my life, I was very sad, I often cried and I always felt alone, I needed to feel cared for; I lost a little sister when she was very small, and one day, speaking with a coworker, I told her that I did not understand why I never even dreamt of my sister, it's almost as if she did not love me.
From that day a few months ago, I have been finding little hearts everywhere … I don't know what it is, if they are messages of love from my Angel or from my little sister … all I know is that they are more and more frequent, and I feel such a strong feeling of joy every time I find them …. and even before I find them; I started to look for testimonials on internet from people who were in a similar situation as mine, finding little hearts everywhere, and during a little break to get some clothes for my companion, I noticed inside my dog's bowl his dried food bits were positioned in the shape of a heart.
This, on the purple table cloth, is the very first heart I found … I was very sad that day, and I had cried a lot … I was having dinner with a glass of milk, and I spilled some of it on the table, usually when that happens the stain is round shaped, in the center of the tablecloth, but to me, it made the shape of a wonderful heart!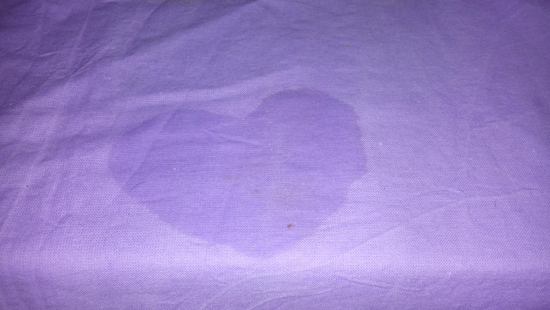 Also, here is a tiny little feather I found yesterday on the floor, after having told my Angel that I wanted to get to know him! I kept the feather.
With affection
Signs of love from the Sky many hearts images photos was told by Anisia
Signs of love from the Sky many hearts images photos
Signs of love from the Sky
www.leparoledegliangeli.com/en The words of the Angels