Find Guardian Angel Sign From My Little Angel
Find Guardian Angel Sign From My Little Angel
Find Guardian Angel : dear Sara, my name is Matteo, I wrote to you not long ago, first of all I want to thank you, because I was convinced that speaking to, or hearing the Angels was impossible, even though deep down inside me I knew that Angels existed and that they follow us each step of our lives, you may think it's a small thing, but for me, what I want to tell you is meaningful, very meaningful, and I am so very happy; I tried to listen to your advice, even if inside me I was afraid I had somehow offended  my little Angel.
This morning I was going to school, I climbed on to the bus, and, as usual, I waited for the bus to reach my stop to go to school. When I get on the bus, which is always full to the brim with people right up to the stop right before the one to my school, where a lot of people get off the bus, it's practically impossible to find a seat.
So, when the bus emptied a little, there were two empty seats, and I quickly took one of those two seats. This morning there was an oral test on English, I was hoping the teacher would not pick me, I was worried …. I was thinking to myself and to my Angel, also because earlier on in the day I had begged my Angel to give me a sign that he really existed, and that the sign could be at any time. Well, while I was preoccupied with my thoughts, I looked around and I noticed a writing on the seat "Your smile is the best medicine" (Il tuo sorriso è la mia miglior medicina), I took a picture of it and I am sending it to you.
I immediately thought it was a sign from my Angel, and I thanked him, and I think I understood that he does not want to see me sad, since I always worry about the oral examinations, and that he is ready to help me, and maybe I am sharing too many useless worries with him, and even now I can't tell you for sure if it was really a sign from him, however, listening to my heart, inside me, I have the certainty, that this morning he wanted me to calm down.
I just hope that this will be the beginning of many more signs from my Angel, and that one day he will give me his name! I am so very happy, at the same time I do want to ask you, this is such a strange coincidence, could it have been his help? Thank you so much!!!!
A kiss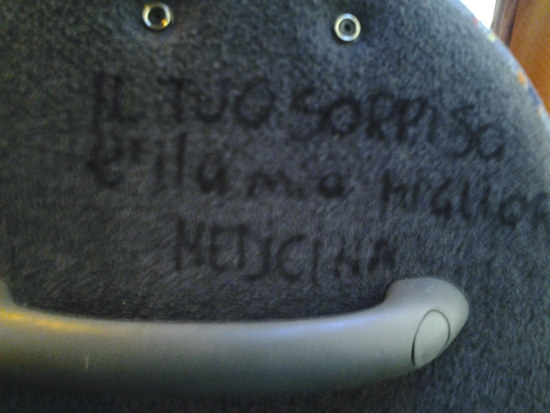 Find Guardian Angel A Sign From My Little Angel was the testimonial of Matteo
Find Guardian Angel A Sign From My Little Angel Experiences
Find Guardian Angel
www.leparoledegliangeli.com/en The words of the Angels