Gifts From The Angels Pure And Spiritual Love
Gifts From The Angels Pure And Spiritual Love
Gifts From The Angels : hello Sara Luce, first of all, I hope you are well, I would like to tell you how sweet my Angel is, I believe his name is Michele, I understood it from a series of events and coincidences, I have always believed in his presence next to me, I talk to him, I leave the passenger seat free for him by placing my bag in the middle of the two seats, I say hello to him in the morning and I wish him good night every evening.
Last night, after having read from your website the testimonial of a lady who had insistently asked her Angel to show her a little frog as a sign of her presence, after I went to bed, I asked my Angel: please my sweetest Angel, give me a sign too, it's not a big deal if you do not, because I do know that you are here, but it would make me very happy, I beg you, tomorrow let me find a little heart.
This morning, at about noon, I started preparing lunch for me and my children, my husband is out all day today, I wanted to make something quick but that at the same time I know my children would like. Battered chicken breasts with French fries. I looked in the freezer and ther were no more frozen fries left. I looked in the pantry and I remembered there was a bag of potatoes left. I took it, I started to take out the potatoes I needed.
All of a sudden, what do I see? Among the many potatoes, all perfectly oval in shape, or maybe round, I saw a potato in the shape of a perfect heart. I immediately remembered my request to my Angel from the nightbefore. It made me really happy, I was so over the moon! I must have thanked him a million times.
That special heart now is on display in my kitchen. I decided to put it in a pot so that something would grow from it and thus give life to another plant. It will be the plant of my Angel Michael. Thank you for listening to me, a big hug to you Sara!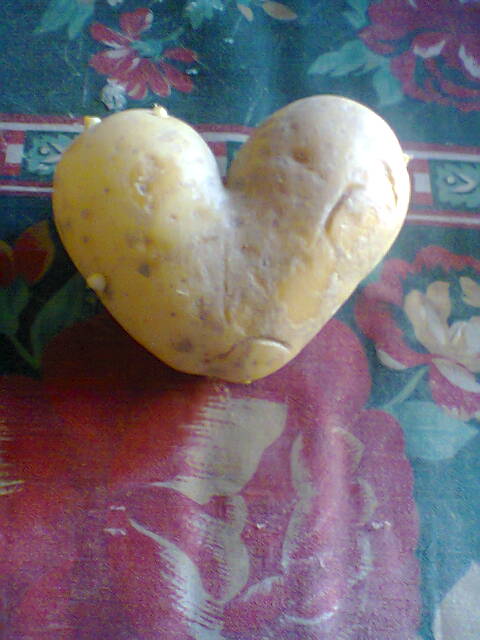 Gifts From The Angels Pure And Spiritual Love was the testimonial of Antonietta
Gifts From The Angels Pure And Spiritual Love
Gifts From The Angels
www.leparoledegliangeli.com/en The words of the Angels